Right, I think I've just about recovered enough to introduce you all to my new X-treme project. But first of all I'll explain the nightmare I went through collecting it.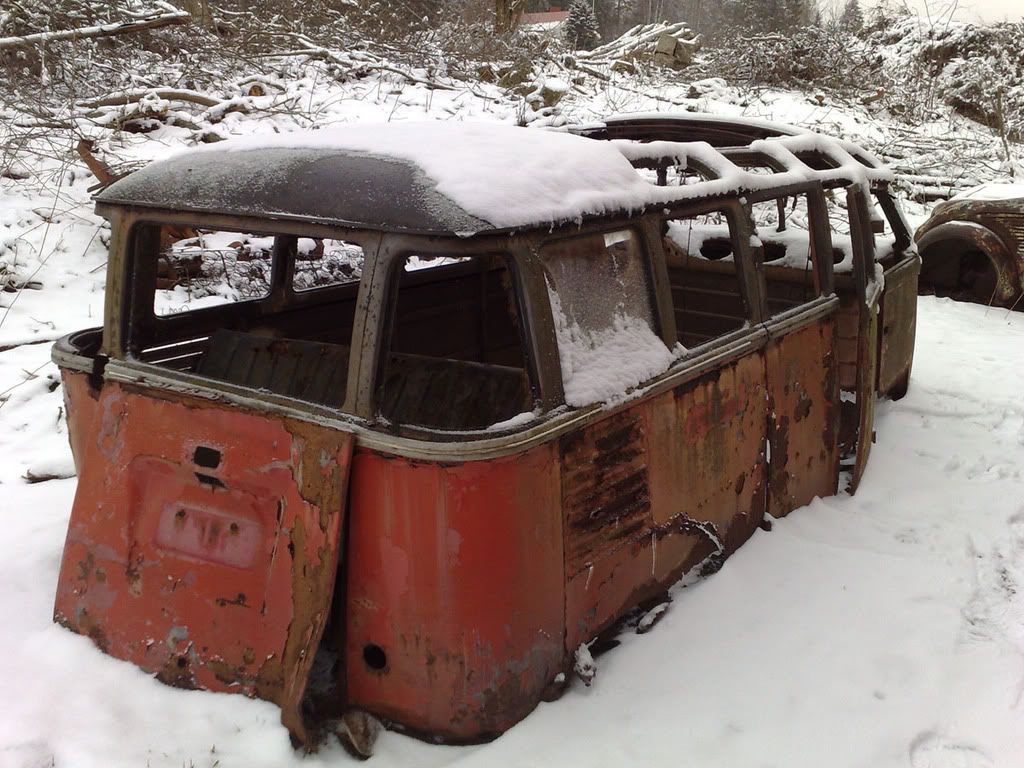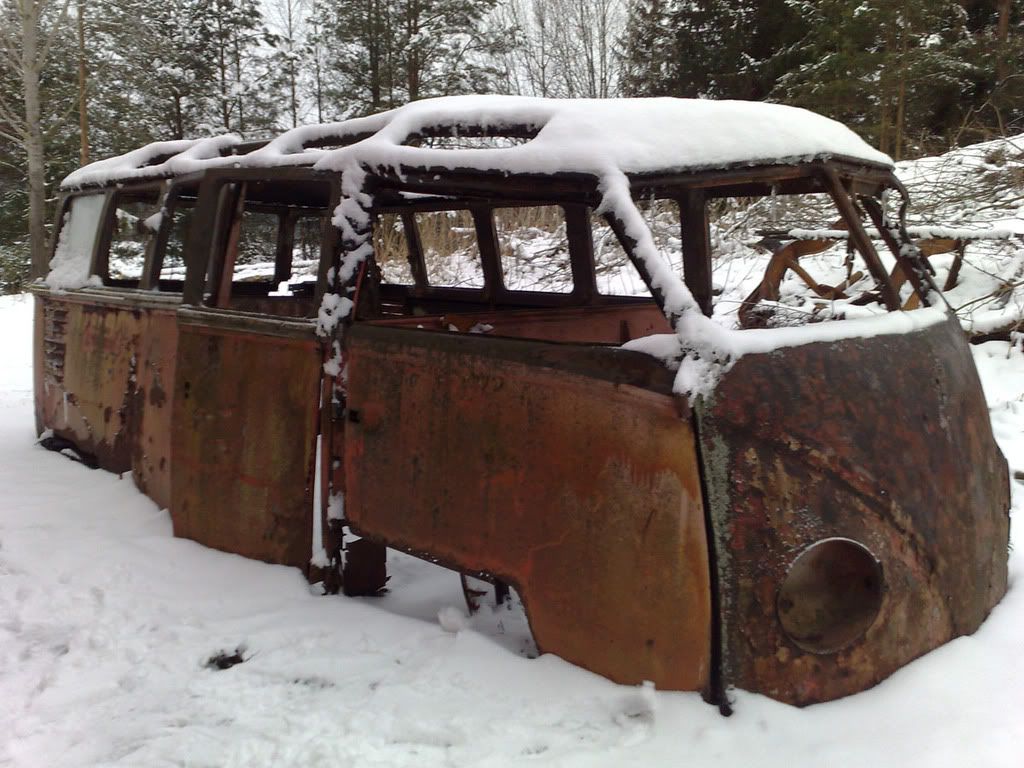 The bus was in central Finland. But the first nightmare was caused by the exchange rate. The day I had to change my Euros the rate hit the worst point EVER in it's history
. Me and a friend had then planned on driving the mammoth two way trip with my car and hire trailer in tow. The ferries were booked, I had the time off work and drove all the way to my mates house in the south east ready to board the ferry. Only here did I learn he could no longer go, an emergency at work. I was left up ....
. I didn't have enough time off work to drive it alone so I had to loose my ferry tickets and other expenses and head back home. Fortunately the owner was understanding as I had promised to collect it soon.
So, phase two was initiated. This time I would fly out and buy a 92 single cab syncro with the samba already loaded on and drive straight back from the airport. The Syncro was a dailey driver and a great looking bus. Then disaster number two struck. Literally hours before my first flight was to leave I received an email from the seller saying on the drive over to his house to load up the single cab the cab had broken down.
. With too much already organised I said I would still fly out and try and sort something out his side.
So to cut a long story short, over the next few days costs continued to increase as I stayed in unplanned hostels, hotels and had to eat. The single cab was frantically trying to be fixed. In the end it was worse so we started looking for another vehicle. Apparently usually VERY easy to locate in Finland we couldn't find one anywhere
. Just a few overpriced double cabs. After an especially bad day when I ended up in Helsinki only to find out all hotels completely full and having to pay to sleep in a field in only a sleeping bag (I had no tent) and then it rained
, I found myself looking at return flights home. All now very expensive, I decided I was not going to let the dream die and brought a cheap standard double cab we had just found.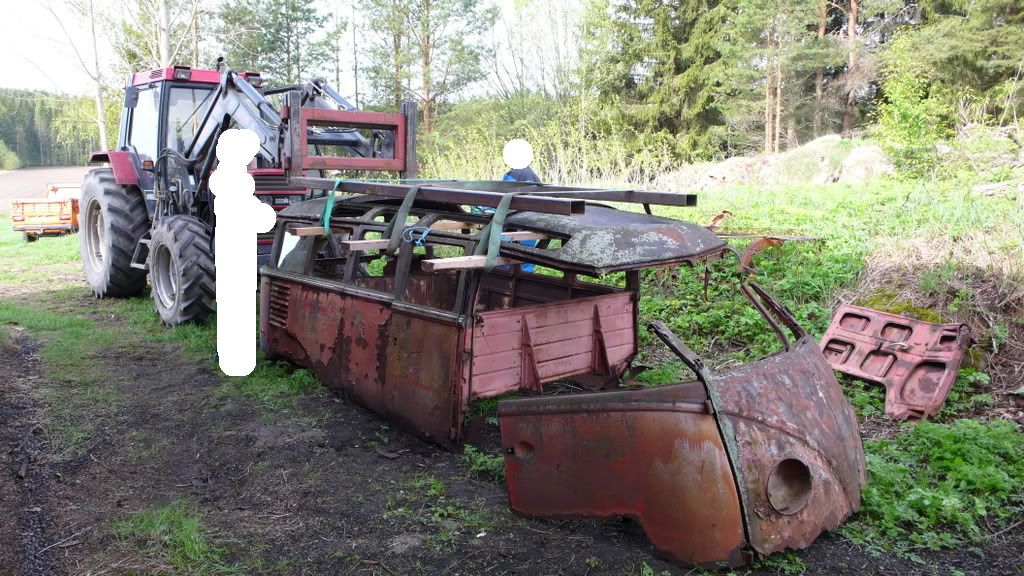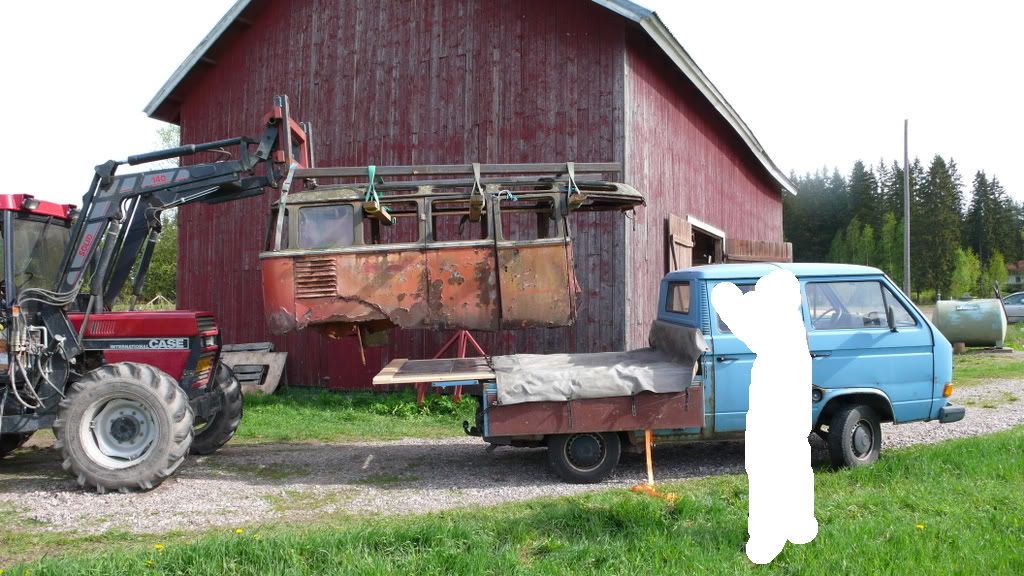 The double cab was ratty but pretty dry and seemed to run well. But it was a double cab so we had to extend the bed and cut off the samba front. This wasn't as drastic as it sounds as the windows pillars were pretty rusty. I also loaded up a lot of spare parts the guy had and eventually got to head off.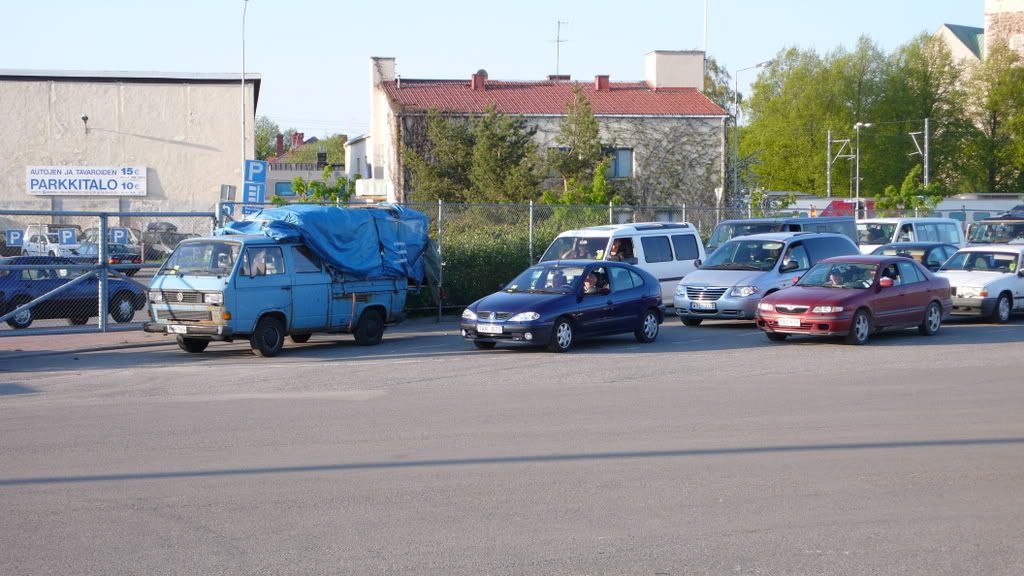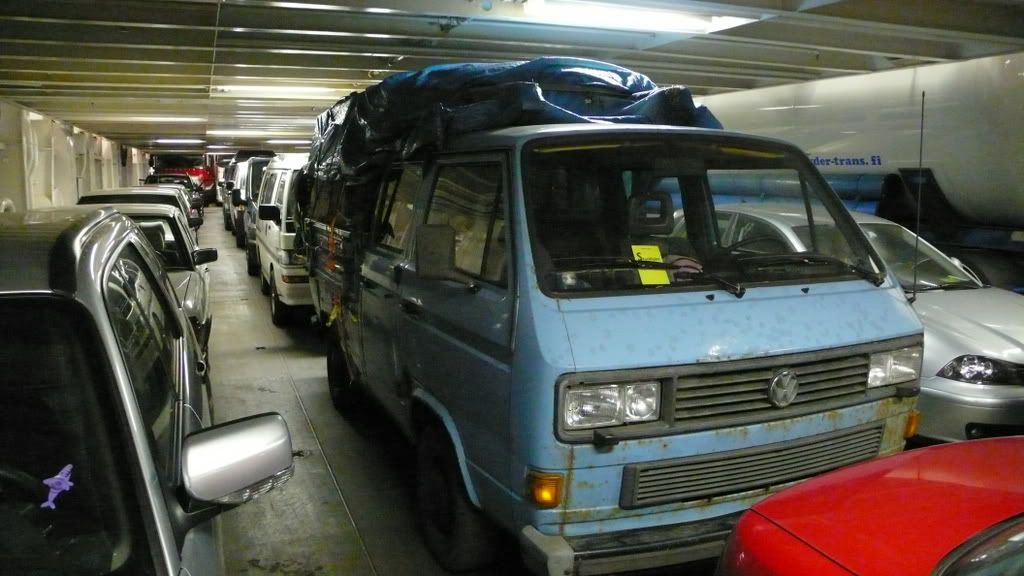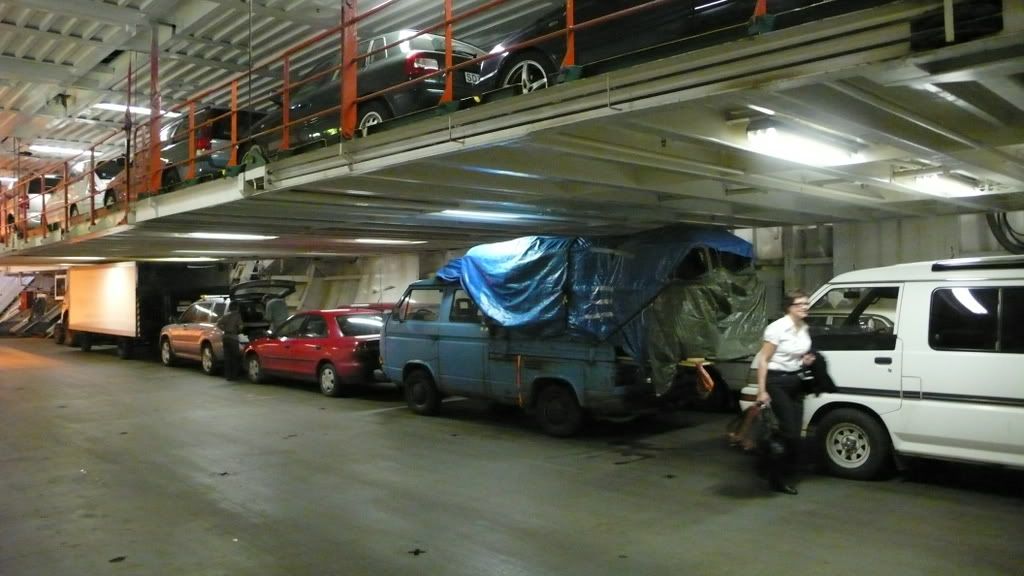 Broken Taillights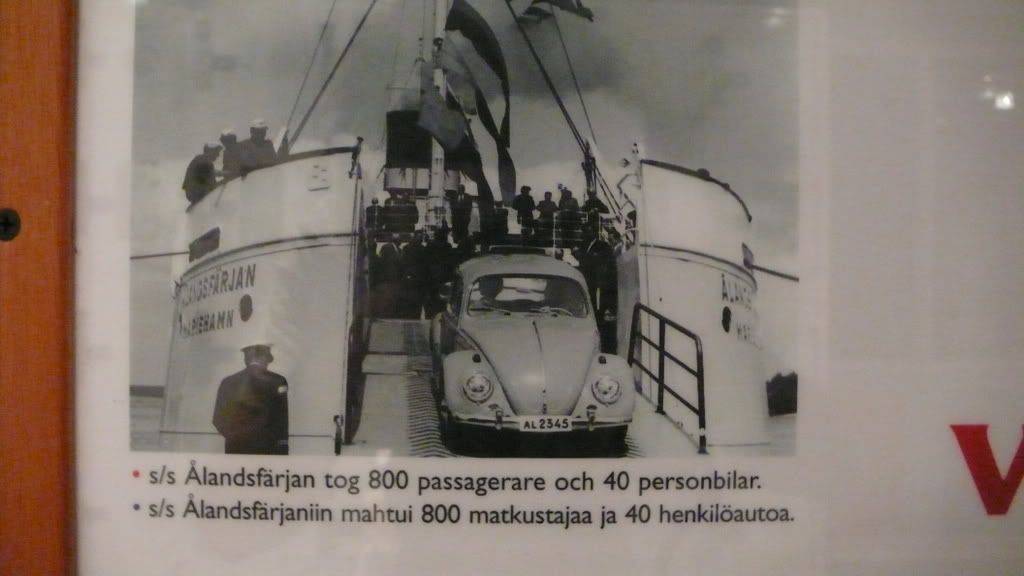 An old photo on the ferry.
The T25 handled great and was a great little trooper. I managed the 2500mile drive to the French coast in just 38 hours
. Even though my ferry room mate was a worse case scenario snoring monster of a man
, and the police stopped me from driving at night in Germany because my rear lights were out. (they worked when I left and it wasn't a fuse or bulb
). Anyway, after another random German police stop, this time for identity cards. I got 30 miles from Calais and BOOM! I think I may have pushed her a little too hard. The big end was gone and had sent the piston through the casing.
Finding out it was a French/Belgium bank holiday and it would cost €500 to just get towed off the highway
. I managed to get a holidaying Brit to tow me of the highway using one of the sambas straps, but in the end had to fork out €200 to get recovered to the ferry. Now after midnight when I arrived I was still 350 miles from home and properly buggered. I slept in the cab, then in the morning pretended to be my friend who has personal breakdown recovery and managed to get recovered home. Result
. The save in petrol possibly making up a bit of the towing cost in Europe.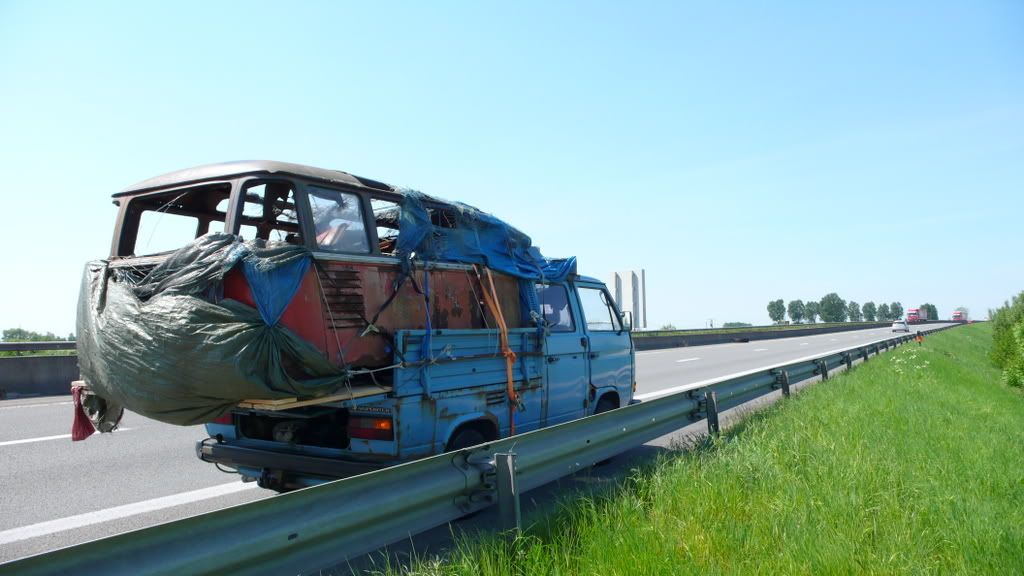 Broken. So near but so far.
British tow truck 1
British tow truck 2
British tow truck 3
Thinking that was it I was finally home I must have relaxed and all the stress of the last week hit me and I got very ill
. Now a bit better I have to sort out some storage and actually start the huge project ahead. I just hope that goes a bit easier then the collection.