1965 Type21f
Westfalia Hamburg Type155i 003
viewtopic.php?f=8&t=64012
1965 Devon Caravette
, L360 L289 Hammock, Tent, M W Pop
Peebles 1964 Devon Caravette Gentlux Pop
---
SSVC Member

Posts: 176
Joined: Fri Oct 14, 2011 7:48 pm
Hi been reading up on fitting seatbelts in my bus. Like your method of fitting the upper mount but cant find the bar/mountvthat you used. Any advise? Where can i get them ? uote="marmite_on_toast"]
Pictures and details supplied by Reaction
I fitted a 3 point into my 67. There was none of the fabled factory made mounting points though
The centre points. I need to fit the longer belt ones though.
This is where I mounted the rear inertia reel. Not too bad to fit here either.
I've used JK spreader plates behind all mounting points.
I opted for a single mount point here. I think I'll go back at it later and split them up.
where did you get the belts from
Not advisable, but I purchased them on eBay. They specifically have to be mounted upright to work properly (by this I mean they stay locked and wind in only until you get upright position). These particular belts are from a Renault kangoo, which I checked to for length first.

They cost about 20 bob, which is far cheaper than buying new, but they need to be thoroughly looked over before fitting. Don't want any 'accident used' items protecting my boys.
Or
from VW Heritage - they do the ones that mount on their side, are extra long, and you can get them with classic style flippy catches.
The following details have been supplied by pootle
When I fitted rear belts I tried to copy modern car set ups with regards to hip/shoulder points so that when it comes time to move up to the next child seat or an adult is traveling in the back the belts are positioned correctly.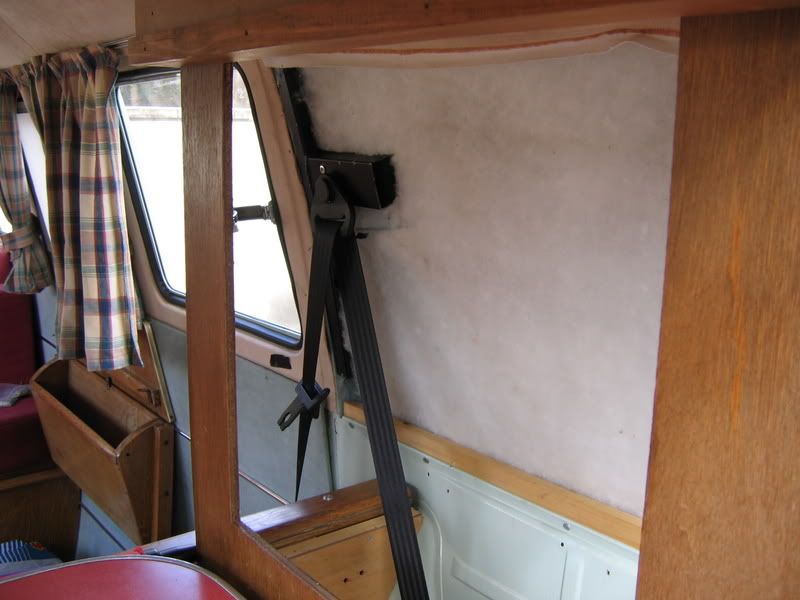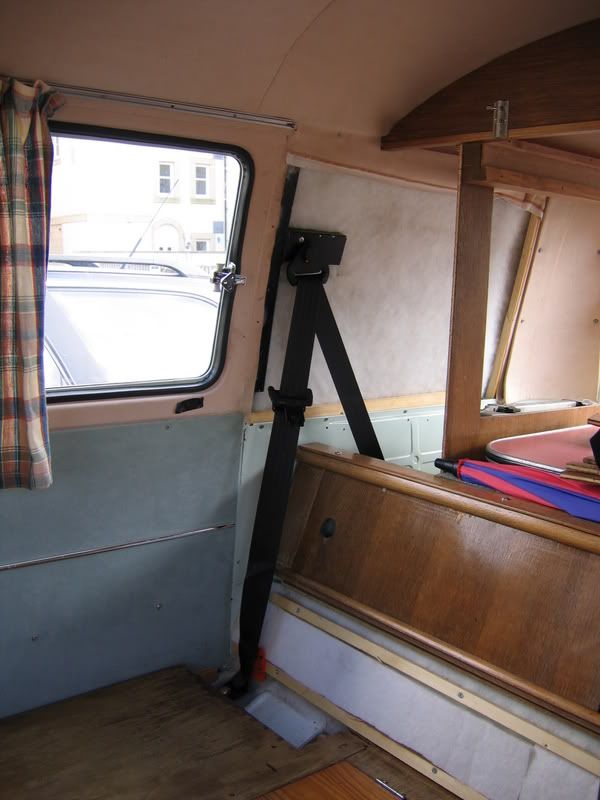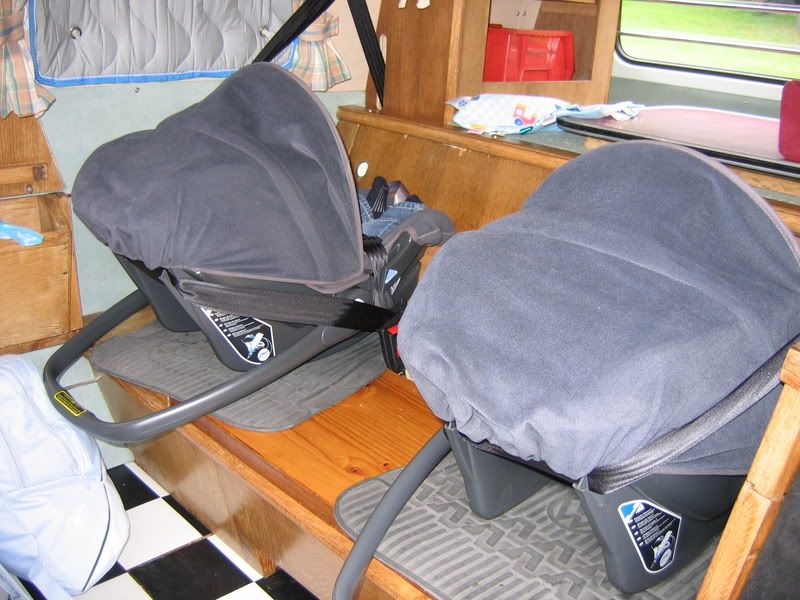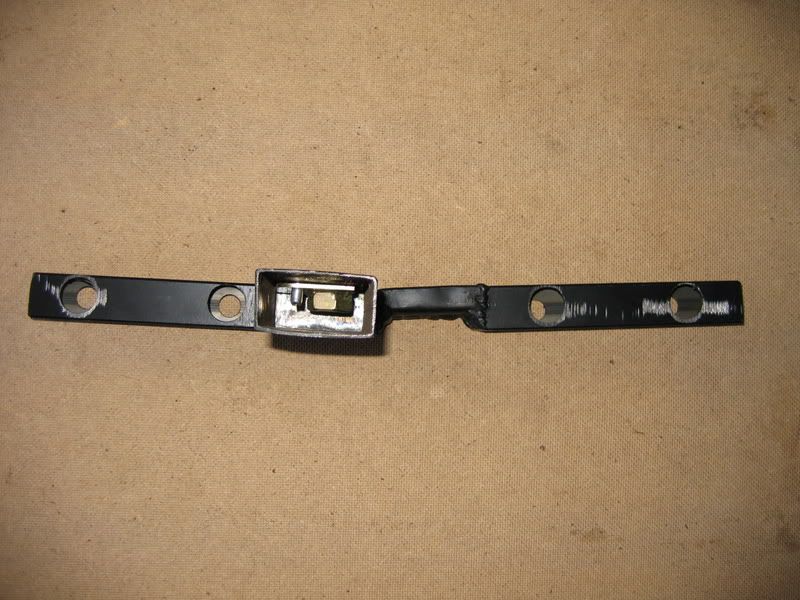 I have supplied these images to show other forum users the modifications i have carried out on my own van. Please do not assume that my modification is suitable for your own needs or family safety.
Please feel free to add any other comments/ advise.
Many thanks Dan.[/quote]
---
SSVC Member

Posts: 176
Joined: Fri Oct 14, 2011 7:48 pm
If anyone can help or advise with this that would be gteat . we need to fit belts in the back of our bus so that we will be able to fit kids seats in the future. So need to sort out mounting points and belts. Unfortunately as usual on a budget but this is safety so must be right cost regardless
---
Registered user
Posts: 5514
Joined: Fri Jan 28, 2005 3:51 pm
Location: Essex but I'm nothing like the twats on the telly.
Contact:
If you look on the securon website it gives you all the different styles of belt and buckle combinations they do with pictures. It also gives the length of the belts so you can work out which ones you need.
I bought an un-branded belt from ebay and frankly it was shocking. The belt itself was very thin material, the metal anchor points looked like they were made from an old baked bean can and the stitching looked like a 5 year old had done it with some left-over bits of cotton. I replaced it with a securon one and you can see the difference in quality immediately.

Cheers, Lee.
"...scum is scum wherever you go" D.C.I. Gene Hunt
0.018 reaction time:Empster July 2005 with a timing slip to prove it
Sooty wrote: You are a god Lee.
---
Good threads, cheers guys.
I can see about fitting belts to the drivers seat, but what happens when 2 people sit on the front bench seat. Is there a belt long enough to go over one or two people, or one belt to go over the passenger by the door, and maybe a lap belt for the person near the driver ?
Cheers
---
I'm sure using one belt for 2 people isn't allowed. Lap belt for middle person.
I don't like driving with three up front as shifting gear can be awkward
Cheers,
Gertjan
Interested in 1/4 light/sliding window locks? Please PM me.
Available colours: black, blue, red, yellow, white, grey, green and purple
Link to forum post
---
ok thanks. I used to drive with 3 in the front with my old bus many moons ago. But as I have 1 teenage child and 2 infant kids and the wife I will need to. I am going to go for a 3/4 r&r bed in the back which I will put 2 seatbelts for their booster seats, and the teenage daughter and my wife and me up front.
---
Could you fit a drop down buddy seat from the rear of the division in the cargo area?
By law you do not need a seat belt if the passenger is facing backwards but you could fit a lap belt there?
G
Last edited by
type21f
on Sat Nov 19, 2016 11:47 am, edited 1 time in total.
1965 Type21f
Westfalia Hamburg Type155i 003
viewtopic.php?f=8&t=64012
1965 Devon Caravette
, L360 L289 Hammock, Tent, M W Pop
Peebles 1964 Devon Caravette Gentlux Pop
---
---
SSVC Member

Posts: 15
Joined: Mon Oct 24, 2016 12:13 pm
Hi,

marmite_on_toast

Shame I can't see pictures any chance of reposting as we seen to be having a lot of problems with photobucket

Cheers Peter
Owned 1967 Dormobile split in the 80's (KHY90E)
Present
Mk1 GP Buggy
1967 11 widow Combi SA import Now Complete
---